How To Make Money Online in Pakistan Capitalizing on the Internet
Ways how to make money online in Pakistan through various channels on the internet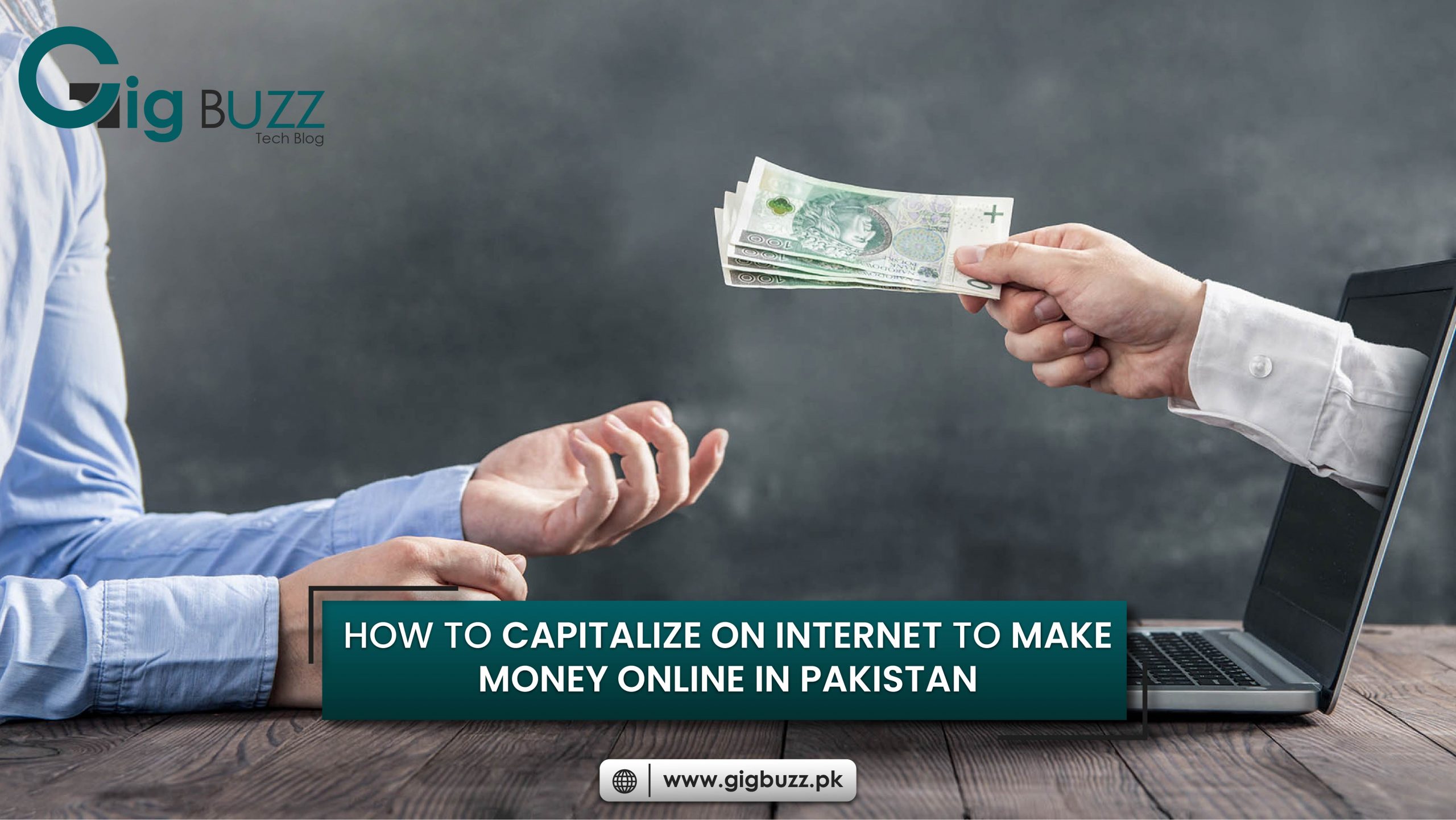 Wondering how to make money online in Pakistan via internet? Roll up your sleeves while we take you to various ways of online earning in Pakistan from the comfort of your zone. The development of the internet has enabled millions of individuals to make money online in Pakistan. Using any advanced skills, you have acquired, you can work from your home and retain a massive part of your income from the existing market of online earnings.
Many graduates are wandering to learn how to make money online. However, nowadays, making money online is very much possible and exciting. With working only a few works on your laptop or computer, you can include yourself in the list of top successful freelancers. Furthermore, there are specific ways that unlock the doors of earning online in Pakistan.
In the busy schedule of life, some experienced, skilled persons may not find easier ways to earn their livelihood. So, here in this blog, you will know about some ways to enable you to make money from home. Earning money from home using your creative and adapted skills is a fantastic gift of advanced computer technology, also called information technology.
During the last decade, information technology has developed to a flourishing status. Not only has it helped the unemployed graduates who were once in search of a satisfactory job, but it also empowered the intermediate level of students to learn a skill and then earn from that. Do you know how much do people earn from providing online services? Pakistan is included in the top 5 countries earning from online services.
Benefits of Making Money Online in Pakistan
However, you can also use your skills to earn money while sitting in any office, but there are countless benefits of making money online in Pakistan. Here, we have incorporated some merits of earning online.
You don't need to invest any initial amount while learning online, you have to learn a particular skill.
You can work from your home and make money online. However, sometimes, you will need to attend a meeting with your clients for better understanding.
Furthermore, the online learning market is limitless. There is no specific area that can be the endpoint of your career. The more you tend to explore new clients, the more you will expand your roots in the freelance market. In addition, online learning is not limited to content writing, graphic designing, social media marketing, VA, bookkeeping, or SEO services; there are hundreds of more options with you, i.e., online trading, transactions in virtual currencies, and online investments, through which you can earn handsome amount of income.
While earning online, there is fluctuation in your income and work hours. You are restricted to working in a specific routine during traditional office hours. But, when you are working from home, you can choose variations. So, online working is a massive benefit for females who are not permitted to go outside and work or mothers who cannot go outside.
10 Ways How to Make Money Online in Pakistan Using Internet
After knowing the advantages of online learning, you must be curious about how to make money online in Pakistan. So, some ways will help you to start earning from your home. You should keep in mind that these ways are not limited. However, we have just included the best of them. They are:
Millions of scholars are earning from selling their expertise by giving instruction online. Using an effective way of communication, you can include yourself in the list of people having major income from online services. Choose your lectures according to a specific domain so that the audience may find you easily. For a better impression, you should give a specific format to your lectures. Your income depends on your effectiveness and your determination.
Online courses have helped the students during Covid-19 to cover their university syllabus. However, if you can convince others, then creating online courses is the best source for making money online. There are many websites from which you can take help for creating your courses. Furthermore, you can provide either education courses or general courses. You must study thoroughly for offering education courses like English Language, Physics, Chemistry, Biology, and Math. There is also a vast demand for technical and computer courses. You can earn by offering online courses in graphic designing, SEO skills, social media marketing, and content writing.
If you have attained an excellent skill in a particular field, you can start consulting online and make money. People will find you and contact you to suggest techniques and methods for achieving their business and personal goals. For your services, they will pay you money. Thus, you can generate an enormous amount from your services. To engage more clients, you can promote your business on social media platforms. In the growing online services market, you can rapidly develop your business.
As we discussed in the earlier paragraph that online services have become indispensable. Everyone wants everything at their doorstep. Similarly, students want to get tutoring while sitting at their homes, and tutors want to provide services from their comforts. You can find a group of students or individuals to tutor them and receive fees for making money online. There are bulk of opportunities of teaching various subjects and courses. You can attract more students if you have extraordinary skills in a specific subject. However, you can also tutor students to prepare them for special examinations and academic tests.
---
You may also like learning about top Pakistani Freelancing Websites to Make Money Online in Pakistan
---
The expanse of online earnings is infinite. You can buy and sell anything on the online platform. Look around in your home and find some items of no use. List them on different listing sites and find buyers. For earning extra money, you should do proper research before putting your items on the website. The research will help you in finding suitable buyers for your products. In addition, not only your items, but you can expand your business by buying rotten items from other sellers and selling them to buyers after repairing. To maintain your business for a more extended period, you should list flawless items on the websites.
By providing the services of a virtual assistant, you can make money online. Nowadays, many online organizations need an assistant to run it remotely. A virtual assistant works from home and regulates the business of their clients. However, there are many responsibilities that you can perform as a virtual assistant. They are formatting sheets, preparing meeting schedules, preparing business plans, checking emails, and writing corresponding and market research emails. The services provider will pay you against your services. According to a research report, VAs make online money in Pakistan more than anyone who provides online services.
Content writers are on the list of those freelancers who make money online in Pakistan. Most companies want to rank their website on the first page and the first number. Thus, they hire an experienced content writer to upload quality content on their website. Besides writing for websites, content writers have exceptional opportunities of finding jobs in various remote companies. There are different online platforms on which you can showcase your skills to attract more clients. While sitting in your home, you can stage your gig on Fiver, Guro, Upwork, Freelancer, etc.
With the surge of the internet and technology, traditional marketing is declining, and digital marketing is getting significant day by day. So, to make money online, you can provide digital marketing services to numerous companies. Your clients need to sell their products or bring more traffic to their websites. For this purpose, you will run ads for them and promote their business using different digital marketing techniques.
You can make more money online in Pakistan and other countries by having graphic design skills than other freelancers. A survey reported that graphic designing is the most demanding skill among others. However, after drawing your designs, you can sell them on different platforms and work for an individual or a company. In addition, you can also work online for different advertisement agencies who can pay you your desired amount. Owners of restaurants hire the services of graphic designers to format their brochures and make them eye-catching and appealing to attract more clients.
The easiest job of all the categories mentioned above is an online data entry. It does not need you to have a particular degree or experience. You have to learn some additional skills in Microsoft Excel and Word, particularly Excel. However, if you don't know how to use it, there are many videos on YouTube form which you can quickly learn how to maintain an Excel sheet. You can find hundreds of online data entry job opportunities on different freelance websites.
After reading about ways how to make money online in Pakistan, you can now start your career. Opportunity knocks at the door but once. So, do not miss any chance of earning online. However, for your facility, to help you in online learning, we have updated some related blogs on our website, Gigbuzz.pk.